My Favorite WordPress Plugins
October 28th, 2011
One of the things that makes WordPress a great blogging platform is the plethora of available plugins. Here's a small selection of my favorites:
Akismet is a fantastic tool for preventing comment spam. It works great, is really simple to set up, and is free for personal use. And because it constantly learns from the millions upon millions of "comments" from all kinds of sites, its accuracy just keeps increasing over time.
Network Publisher automatically publishes your posts to your social networks like Facebook and LinkedIn. It does this though a site called LinksAlpha, which also lets you track the links you published.
My favorite feature is the ability to configure what gets published where. You can set it up so that only posts in certain categories get published to specific sites. So, if you don't want to bore / scare your Facebook friends with posts about JavaScript, you can exclude those posts from Facebook, but not LinkedIn (sorry, non-geek LinkedIn friends).
FD Feedburner connects your WordPress RSS feed with Google's Feedburner to provide RSS analytics. If you have RSS subscribers and you want to track them, this plugin might just do the trick.
This plugin sets up a breadcrumb navigation menu within your blog. With it, your readers should be able to easily navigate the otherwise impenetrable maze you've set up. Hansel and Gretel would be proud (well, at least Hansel).
Tagaroo is a plugin that can automatically suggest tags for your posts. To do its magic, this plugin uses OpenCalais, a web service that's able to extract semantic data from unstructured text.
This plugin allows you to use a fantastic syntax highlighter from Alex Gorbatchev in your posts. If you include code snippets in your posts, why not pretty them up a bit? The plugin has support for a boatload of languages and you can even add your own.
This oddly named plugin gives your readers an easy way to share your posts with their social networks. It supports a lot of social networks, most of which I've never heard of. But hey, if someone wants to share my post on plurk, who am I to stop them.
Here's a little map of the plugins visible on the page: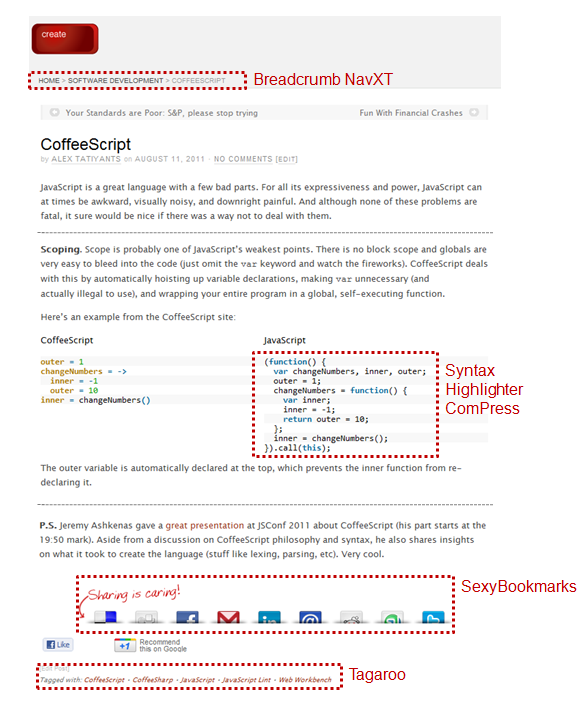 You may also like:
Did you love / hate / were unmoved by this post?
Then show your support / disgust / indifference by following me on Twitter!